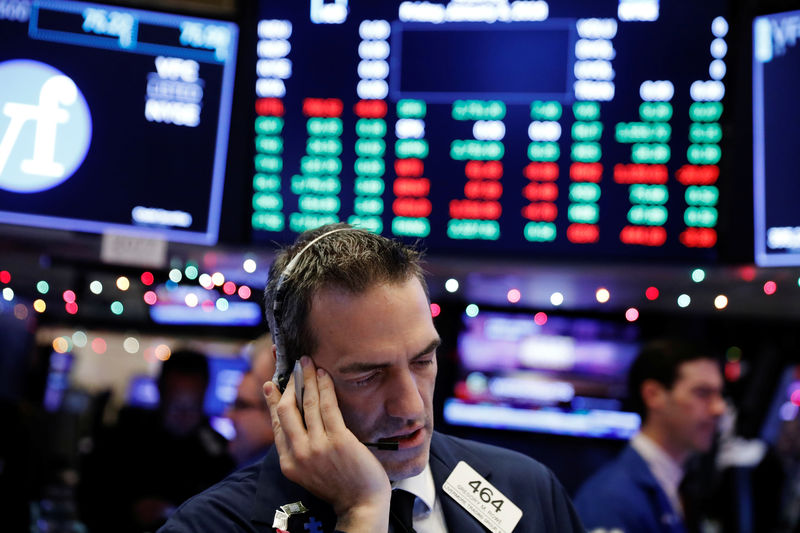 © Reuters.
Investing.com – Stocks plunged Monday and bonds jumped thanks to a miserable combination of trade worries, the worsening civil strife in Hong Kong and fears about global growth generally.
The S&P 500 was off 1.23%. The Dow Jones industrials fell 1.48%, and the Nasdaq Composite had given up 1.20%. The Nasdaq 100 index, reflecting Big Tech, dropped 1.1%.
The Dow was off as many as 462 points before some modest late-day bargain hunting kicked in.
The major averages have fallen about 5% from their peaks in late July. Long-term bond yields tumbled, with the spread between the 10-year and 2-year Treasury falling to as little as six basis points. The spread was the lowest since 2007. The Treasury 10-year yield fell to about 1.64%, the lowest level since October 2016.
The narrowing spread is a clear signal of increasing worries the U.S.-China trade fight will go on and sap the global economy in the process. Goldman Sachs (NYSE:GS) analysts said Sunday they don't see a resolution before the 2020 election.
China was struggling with continuing protests in Hong Kong that included forcing a shutdown of its international airport. Speculation mounted that the Beijing government might bring in armed forces to control the situation.
Johnson & Johnson (NYSE:JNJ) was the only Dow stock showing a daily gain, up just 0.05%. Stocks of companies with global presences were weighing heavily on the market. Goldman Sachs (NYSE:GS) was down 2.6%. Caterpillar (NYSE:CAT) was down 2.2% and Pfizer (NYSE:PFE) fell 3.7% after hitting a 52-week low.
Financial, consumer discretionary, materials and technology stocks were the weakest sectors. Real estate and utilities suffered the least losses.
Big tech stocks fell, including Amazon.com (NASDAQ:AMZN), Microsoft (NASDAQ:MSFT)and Apple (NASDAQ:AAPL), though Apple was off just 0.25%. Advanced Micro Devices (NASDAQ:AMD) fell 5%, despite two Wall Street houses boosting their target prices on the stock. Some of the decline may be due to a huge run-up this year.
Uber Technologies (NYSE:UBER) and Lyft (NASDAQ:LYFT) fell 7% and 5%, respectively, on concerns about when — or if — the ride-sharing companies will ever see profits.
The losses for the major averages were their seventh in the last 10 trading days. And volatility has increased, with the Dow off more than 280 points on four different days, including a dive of 767 points on Aug. 5.
It's not clear if the market is bottoming or could move lower. The Dow and S&P 500 saw their relative strength indexes drop under 30 on Aug. 5. The Nasdaq finished at 30 that day. A reading under 30 for an RSI, a measure of momentum, is a signal a stock or index is bottoming. The RSIs for the three indexes were above 30 on Monday but well off Friday levels.
This new round of volatility, the second this year, was set off when President Donald Trump announced last month the United States will raise tariffs on $300 billion in Chinese goods.
In addition, the president has been pressuring the Federal Reserve to cut interest rates aggressively to counteract moves by other central banks. The Fed, which cut its key federal funds rate on July 31, is expected to cut rates again in mid-September. Investing.com's Fed Rate Monitor Tool puts the odds at 77% the central bankers will cut their federal funds rate to 1.75% to 2% from 2% to 2.25% now.
The uncertainty has put the U.S. stock market firmly under control of computerized trading and made stock picking difficult.
Winners and Losers Among S&P 500 Stocks
Biopharma giant Amgen (NASDAQ:AMGN), telecommunications companyCenturyLink (NYSE:CTL) and food-distribution giant Sysco (NYSE:SYY) were among the top S&P 500 stocks.
Drug-maker Nektar Therapeutics (NASDAQ:NKTR), fertilizer maker Mosaic (NYSE:MOS) and Corteva (NYSE:CTVA) were among the weakest S&P performers. Corteva is the seed-and-farm products company recently spun out of DowDuPont.
(Sourse: investing.com)